Debut Single 'The Things I Think' - Pre-save Now
Hello everybody 👋

Thanks so much for being a part of my mailing list and signing up to hear my updates. It means so much to me to be able to share my music, so thank you.

I have news, but we'll get to that.

It's been a rough few weeks round here after I picked up some kind of virus in London that kept me laid under and unable to sing at all for the best part of a month. Incredibly frustrating but I'm on the mend and will be back on stage this weekend in York. A covers gig this Saturday at The Last Drop Inn, and something a bit more chilled out on Sunday evening at The Angel On The Green in Bishopthorpe Road. Free entry and It'd be lovely to see some folks there.

Onto the news...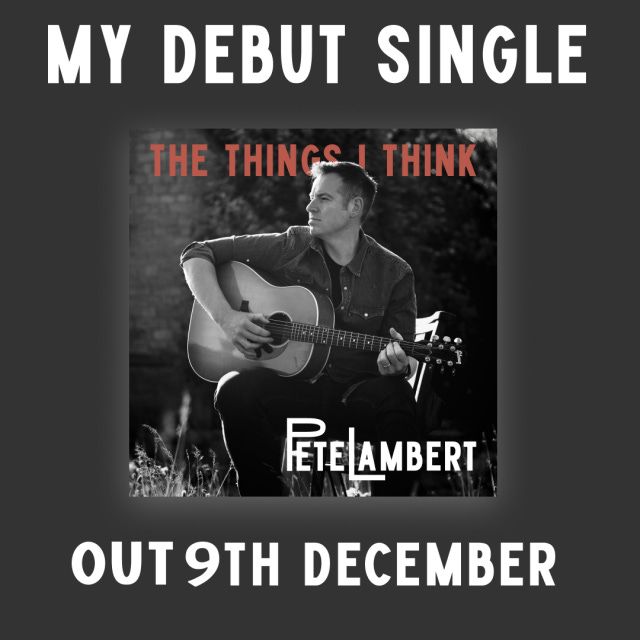 The first single from my upcoming debut album will be 'The Things I Think' and I'll be releasing that on all streaming platforms on Friday 9th December.

I can't wait for you all to hear it. It's produced by the wonderful Dan Webster and I've been able to work with some of the best people and my loveliest friends whilst making it. Alex Victoria sings backing vocals and plays cello, Emily Lawler is on fiddle, and Sam Jackson (not that one) is hitting that double bass.

It's all so exciting and I'm going to ask you a favour. If you wouldn't mind seeing your way to Pre-saving the release on Spotify using that link, it'd make the world of difference. Every pre-save encourages Spotify's algorithm to push my single and potentially get it in front of some new ears. So your help here is appreciated.

That's it for now. I'm almost certain you'll be hearing from me again at some point in the next couple or three weeks.

Cheers,

Pete